With a low energy reserve, I've unfortunately been ill-equipped for late night partying and reveling. On more than one occassion, I've been dubbed prematurely 77. In view of this, my New Year's celebrations usually entailed steady tea sipping while cozily munching on my mom's homemade (and store-bought) treats. The midnight countdown was comprised of running around the house and turning on every light imaginable (my mom believes that having a completely lit house brings a properous new year).
This year, I decided to do something completely different. I made my way up north to Montréal by way of the Adirondack train and rang in the New Year at the epicenter of an angry winter chill. It was teeth-chattering, but also a wonderful deviation from the norm. Hopefully, this might set the tone for a crackin' 2015!
Montréal is a beautiful city. A slice of old Europe in the new world. Yet, it was also as sleek, efficient, and modern as any of the major cities like New York. But for all of its beautiful paradox, what I found to be its most delightful aspect was the slew of mom-and-pop type of shops thriving all over. These quaint and family-run establishments (sadly disappearing from New York City) appeared to be institutions. Places like Lester's Deli (an alternative we chose over the more popular and crowded Schwartz's), St Viateur Bagel Shop, and Cafe Olimpico catered to locals and tourists alike with a personal touch only a familiar and friendly neighbor can provide.
Although a strong winter storm and intrepid cold temperature overtook the city and limited our mobility, we pushed on. We were determined to see and eat as much of this romantic city as possible.
Here are some of the trip highlights:
Basilique Notre-Dame de Montréal

This magnificent gothic revival church is simply a treat for any architecture and art enthusiast. Every inch of the interior - from the columns and pillars supporting the arches, to the azure and gold ceiling - was filled with intricate details. Stained-glass windows portrayed the historical milestones of Montréal rather than the usual religious passages (like the Stations of the Cross) often found in most churches. At the center is an elaborate and arresting altar that hypnotizes visitors almost immediately.
I hate to admit it, but these mildly sweet, soft and chewy bagels might edge out NYC bagels for this NYC gal. The sesame bagels were trés deliciéux! Freshly baked all day, these bagels cannot be missed.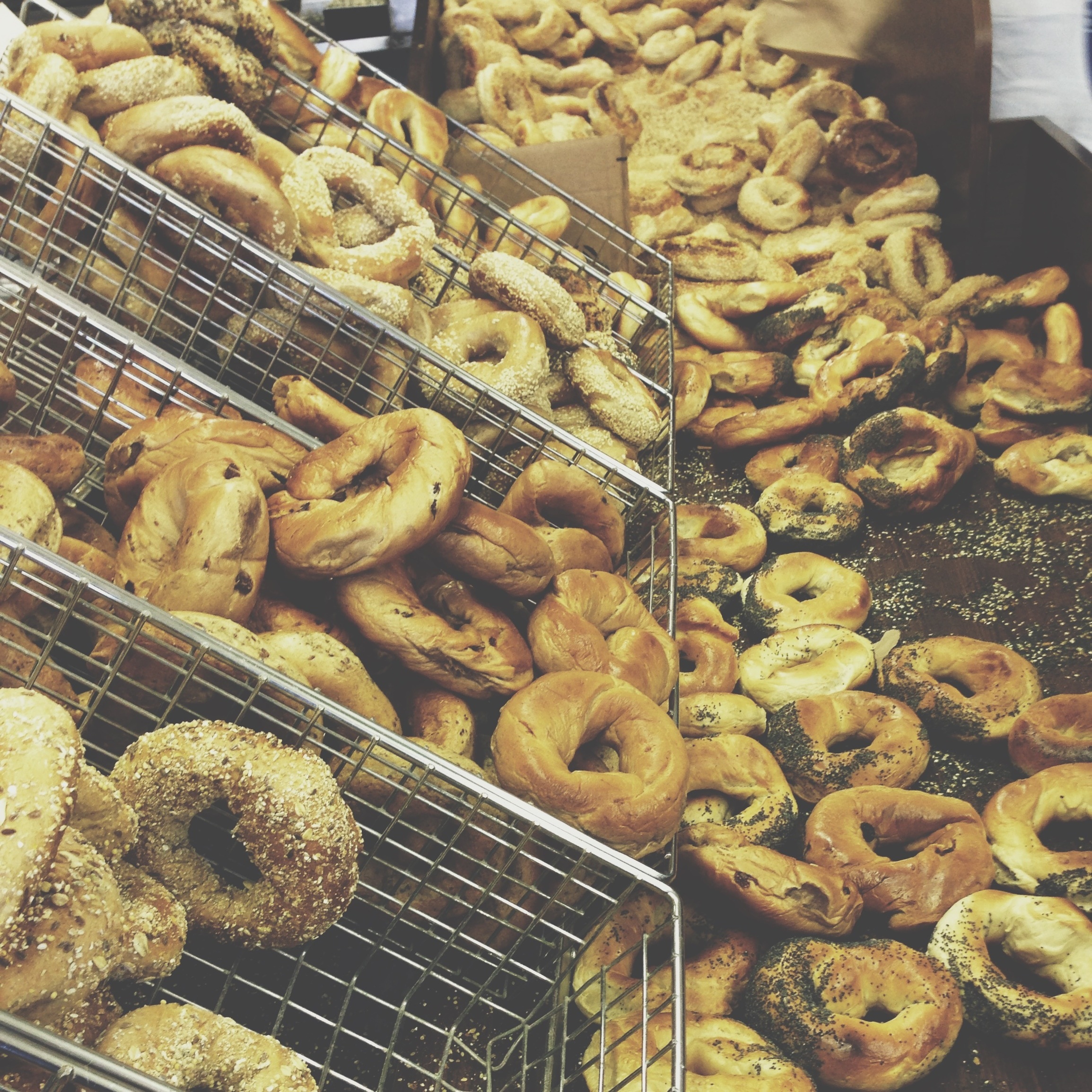 This was, quite likely, one of the top highlights of the trip. Initially intending to visit Schwartz's, we decided to give this little gem a try...and were we glad we did. Void of the famed lines that form at its more popular counterpart, Lester's was a quiet and intimate local food experience. A favorite spot of Montrealers, their smoked meat sandwiches were moist and simply to die for. We demolished our plate of poutine within minutes as we chatted with the very delightful Billy, it's fun-loving owner.
A beautiful place that holds rare antique and vintage finds. Unique items like old laboratory flasks, surgical light fixtures, and gym equipments are curated in the most sophisticated fashion.
An amazing spot along Mile End, this charming store holds some very "timely" vintage items. Run by the friendliest guy, I simply couldn't walk out without buying something!
Until next time, Montréal!